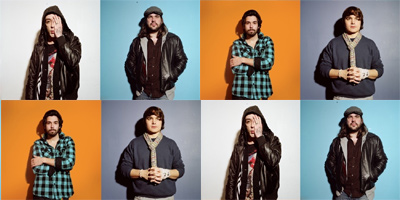 I feel this is a long time coming; for those of you unfamiliar with the Wolf Parade action, hello! Good morning. Are you ready for some sickness?
Wolf Parade
was a happy accident; they formed in Quebec when
Spencer
Krugs record label asked him if he could throw something together as an opening act for a label-sponsored tour. He recruited fellow songwriter
Dan Boeckner
, and the two formed the basis of what was then dubbed Wolf Parade. They were artists I was completely unfamiliar with in their solo projects, but after their maiden tour together, when they were ready to release their first LP as a band, they did so in a very unique manner. Spencer and Dan work very well together, but have their own distinct voices and writing styles, so the three Wolf Parade albums that have been released share a similar A-B-A-B rotation, where the two songwriters bounce songs off each other, each song switching lead singer/ songwriter credits while incorporating the others respective skills into the instrumental and harmonic aspects of their tracks. Their debut,
Apologies to the Queen Mary
, is a doozy, especially as debuts go; their sophomore release
At Mount Zoomer
is 2/3s awesome; and their third,
Expo 86
, is an outstanding indie rock album: at this point in my love of Wolf Parade, i am not sure if Queen Mary or Expo exceeds the other. I have digested Queen Mary a bit more deeply than Expo, so I will continue with that in mind.
For an act to debut an album such as Queen Mary is an anomaly: finding a cohesive sound and flow for an album basically written by two different people shows that they not respect each others choices, but put so much effort and intricacy into using the skills of the "second fiddles" to round out the mechanics of each individual track. It is a badass album;
You Are A Runner
starts the LP off with Spencer taking lead, but immediately bleeds into Dans amazing
Modern World
. The flow of the album is wonderful; so many standout tracks. I do want to highlight Dans track
This Hearts on Fire
, before getting into what I set out to talk about.
I'll Believe In Anything is one hell of a track. Shit ya'll. I could analyze it but i feel like it speaks for itself. The lyrics convey a sense of longing to be the savior of a woman needing to escape, while the video adds the twist of doing so just to prove the point that you are the better man in a competition for love.
apologies to the queen mary